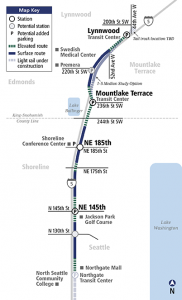 Sound Transit is expected to make a decision in April 2015 regarding light rail station locations in the
Northgate to Lynnwood extension
.  One station being considered is a NE
130th
Street Station at NE
130th
and I-5.  The proposed
130th
Street station would not have a parking structure and would rely on walkers, bikers, transit riders and a proposed Bitter Lake-Lake City METRO bus connection. Planned future cycle tracks in the area would also feed to the station. Service at the station would be scheduled to start in 2023.
A NE 130th station:
Would ensure better access for Lake City and Bitterlake riders.  The

130th

/125th corridor has far greater capacity and shorter distance to Lake City and Bitterlake, two underserved and dense communities in the northernmost part of Seattle.  A new bus route could easily and efficiently serve both communities with quick access to light rail without the delays and congestion on NE 145th and Northgate Way.
Promote more walking and biking to light rail.  Many Haller Lake and Pinehurst commuters in the walkshed of a NE

130th

station would easily be able to walk to light rail at NE

130th

when they would otherwise need to drive or take a bus to the Northgate or NE 145th stations.  This would reduce pressure on demand for building expensive parking garages at both the Northgate and NE 145th stations.
Would increase ridership on LINK light rail.
While this project is relatively inexpensive (about $25 million) compared with other stations and Sound Transit has been coming in significantly under budget, what I have been able to learn so far is that Seattle and Sound Transit decision makers are leaning toward not recommending a NE
130th
Street station. 
However, nothing is yet final and an extremely strong showing of community and business support can impact this decision.  Now is the time to show your support.
You can show your support by emailing the following and sharing your support for commitment to a LINK light rail station at NE 130th to open in 2013: