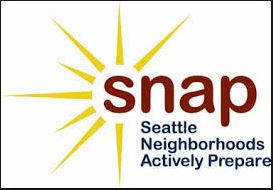 Get your neighbors together to discuss and prepare your neighborhood for a disaster.
1 – Meet and discuss emergency preparedness
Discuss and assess the current level of preparedness in your neighborhood and learn key aspects of preparedness through SNAP presentation, available online.
2 – Get organized
Delegate responsibilities among neighbors and agree upon neighborhood meeting places.
3 – Get confident
Take a training course through the Seattle Office of Emergency Management. You will learn disaster skills, water control, first aid, water storage and purification, fire extinguisher use, and basic search and rescue.
Find more information, including the SNAP presentation referred to above, at seattle.gov/emergency-management/snap