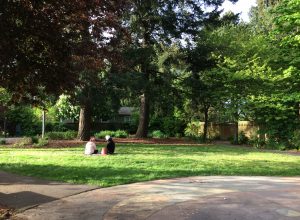 Tuesday morning at the Pinehurst Pocket Park (PPP) I was dismayed to see the flowers from a patch of recently bloomed native Western Trillium had been pulled and left trampled on the paved path. There have been other recent incidents ranging from minor damage to destruction of plants and landscaping at the PPP.
The PPP is intended to be a place where we can all enjoy a little bit of nature. Native plants and landscaping have been put in all around the park and are maintained by local volunteers – your neighbors.
Please encourage children to play away from plants to avoid damage. The PPP is also an opportunity for children to see and appreciate native plants. Examples include Western Trillium, Oregon Grape, Coastal Strawberry, Oregon Iris, Sword Fern, Nootka Rose, Western Redcedar, Douglas Fir, Nootka Rose.
Nearby parks with fun play equipment are Victory Heights Playground (1737 NE 106th St) and the Pinehurst Playground (12029 14th Ave NE). If your dog needs to run or fetch, please visit an off-leash dog park.
The PPP exists due to the long, hard work of a neighborhood group that is part of the Pinehurst Community Council. Funds were raised and the park was built in cooperation with Seattle Parks and Recreation from 2000 to 2007. We are glad so many neighbors enjoy it!
Thank you,
Garth Ferber
Friends of Pinehurst Pocket Park
Former President of the Pinehurst Community Council