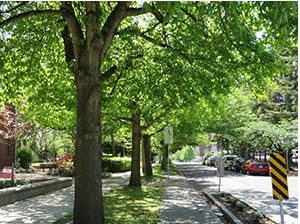 In a move to preserve and increase Seattle's tree canopy (good for the environment, health and quality of urban life), there are some new rules passed in Council Bill 120207 that went into effect.
Property Owner Requirements
Starting November 11, property owners must hire a registered tree service provider to complete most tree work on their property. You will be able to view the list of registered providers on the SDCI Trees & Codes webpage in October. 

Starting November 11, property owners must post a public notice of major pruning or removal of trees on the property. The notice must be posted at least three days before a tree service provider starts the work. To create the public notice, complete the "Public Notice" form which will be available on the Seattle Services Portal beginning in October.

Property owners completing routine pruning and tree maintenance are not required to register or post a notice.
The bill requires tree service providers to register with the City of Seattle before conducting commercial tree work and consultations on private property. The list will be on the Trees & Codes webpage.
SDCI will host an informational webinar in September to help us understand registration requirements, property owner responsibilities, and Seattle tree codes. Check the Trees & Codes website for up-to-date information.