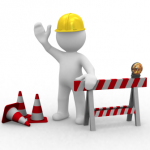 Department of Transportation is preparing to roll out crack-seal crews and equipment. If weather is warm and dry the week of May 10th, crews will begin this seasonal work, applying low-tack sealant to pavement cracks to keep water from seeping under the street surface, helping to prevent potholes and other roadway damage. Crack-sealing continues throughout the summer.
The crack-filling work will be done at these locations:
Pinehurst Way NE – between Roosevelt Way NE and 15th Avenue NE
Roosevelt Way NE – between NE 75th Street and Pinehurst Way NE

35

th

Avenue NE – between NE 135

th

Street and NE 65

th

Street
Crews install "No Parking" signs on both sides of the street approximately 72 hours prior to the start of work, so the appearance of these signs is a good indication of when work will start on a particular street. The parking restrictions will be in effect from 7 a.m. to 5 p.m., and will be removed as soon as the work is done, typically within a day.
Crews will close one lane at a time for approximately 3-4 hours for the operation and to allow the sealant to set.  Traffic flaggers will assist and sidewalks will remain open at all times.